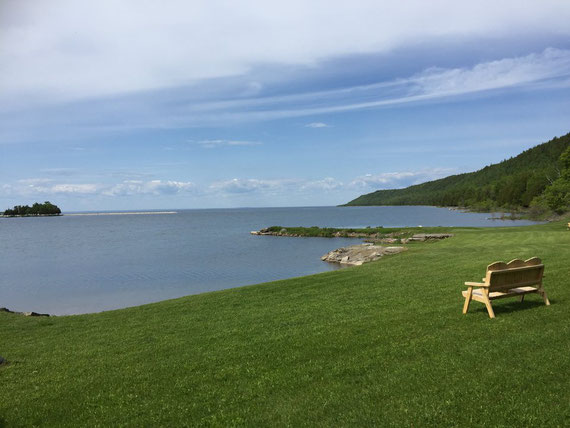 While you are enjoying yourself on the Island, we have friends and places you should check out while you are here. 
Whether you wanted to check out the lighthouse down the road, or the east bluffs up the hill, there are things to do in Gore Bay and not too far away. 
For those who love history, sights, and walking:
Gore Bay
We have The Boardwalk that goes around part of the waters edge, for you to take in the waterfront views by foot or on wheels. The boardwalk also goes past the docks so you will see some boats (and always deer) while you are here. 
The Lighthouse- 4km drive away, just follow the road on Purvis drive, past the Marina and Buoys Eatery to see it (note: it is beautiful to see as the sun is setting)
East Bluffs: There are lookout points to view the town of Gore Bay and we highly recommend checking this out. The view is incredible whether you are seeing the sunrise, visiting during the day, or watching the sunset. Follow water street and you will see a rocky hills you can walk up to see the views.
Make sure to ask about Lisabeth's Ultimately Chocolate, you won't be disappointed you did!
For those who love hiking, swimming, fair-trade, and sweets:
Kagawong
Only a 15-17min drive from Gore Bay, you can get your chocolate and hiking fix here!
You can't miss Boo-Bah-Loo's Candy Store, right on the corner, for you to turn into Kagawong. The bright blue coloured candy store is sure to bring the kid out of any adult. 
When you turn right, if you look at your left hand side, you will see there is a parking lot and stairs, where Bridal Veil Falls awaits! This is Kagawong's #1 attraction and you will see why. The beauty of the falls as well as the trails you can walk is the perfect way to start or end your trip
At Boo-Bah-Loo's Candy Store you can turn left (instead of right) or if you are coming from the falls, then continue straight down the road until you see the downtown of Kagawong.
Downtown you will see the marina with the beautiful beach you can swim in (look for the dock and the park), as well as all the cute shops such as Main St Cafe, Chocolate Works, & KuKu Hut right here in Kagawong. 
For more things to do and places to stay you can check out our website here: Things To Do On The Island