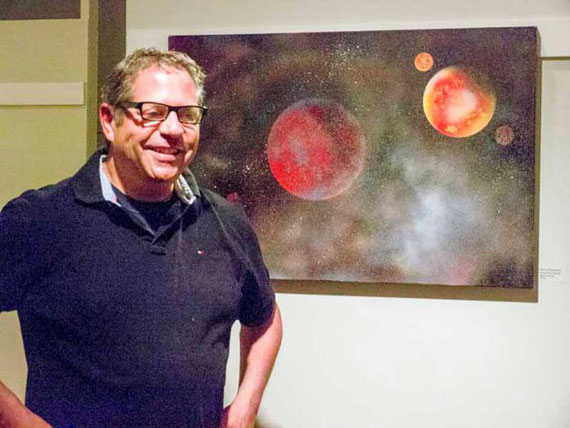 Photo Credit: The Manitoulin Expositor 
It might be September, but there are still exciting things happening here in Gore Bay! Today is opening day of Fish Point Studio's last art exhibit for the 2018 season! 
What is considered art is all based on the viewer, their perception, their definition, and how they interpret the artist's works. We can tell you that you will not be disappointed by viewing 'Distractions In Abstract' by Perry Patterson, a well-known artist who was born in Gore Bay. 
His work speaks for itself, and they are more then just 'art pieces', on you can say is 'Outta The World'. This remarkable artwork was created using spray paint, but you will be in awe when looking at the stars and the planets and how Perry was able to create such a moving pice.
Come by Fish Point Gallery, across from our small dining room, and visit the gift shop, look at the beautiful works done by Perry. If you are looking for unique gifts to take back with you to family and friends, or just for yourself, there are hand-crafted necklaces, bracelets, and other keepsake treasures to remember your time on Manitoulin Island or as a reminder of why you love the island so much!
Just follow the boardwalk across the bay to find us, it's never been easier to support local by soaking in some sun outside, taking in the waterfront view of Gore Bay and the East Bluffs, before you make your way through the art gallery.
This exhibit is 'Outta The World' and you can view this piece for a limited time! Support art, support artists, support local!